Christmas Tree: Magic Of Disney Christmas Tree Collection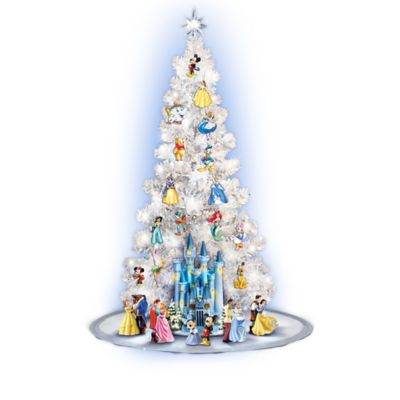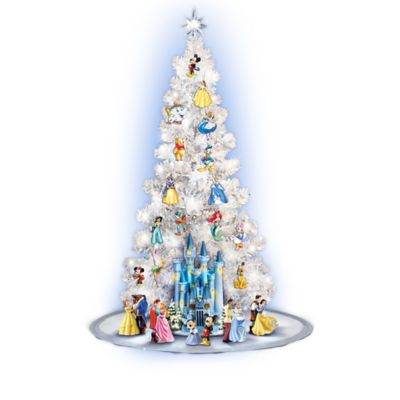 Holidays are always merrier when shared with good friends – especially when those friends are the timeless characters of Disney! Now, light up the season in enchantment with the Magic of Disney Christmas Tree Collection, available from The Bradford Exchange, Hawthorne Village Division. This beautiful Disney Christmas tree collection begins with Issue One, Princess Castle, a sculptural castle that illuminates with 10 LED lights for a merry holiday glow. Your collection continues with Issue Two, the 3-foot pre-lit tree and Issue Three, 3 Dancing Couple figurines and FREE tree skirt. Additional issues including sets of Disney character ornaments and figurines, each set a separate issue, will follow.‡This impressive masterwork of handcrafting and hand-painting shimmers with light, from the illuminated "Christmas Star" at the top of the 3 foot tall tree to the 50 softly glowing lights across its white branches. The complete Disney Christmas tree collection boasts ornaments of beloved Disney characters including Goofy, Donald Duck, Tinker Bell, Ariel, Jasmine, that silly old Pooh Bear and more! Plus, you can arrange the "dancing couple" figurines for a truly stunning presentation! Strong demand is expected, so don't delay. Order now! Fine collectibles, not intended for children. $69.99
Alice In Wonderland, Belle, Christmas, Christmas Decorations, Christmas Trees, Disney, Disney Characters, Disney Mickey, Disney Movies, Holiday Decor, Illuminated, Promotion 10163, Promotion 9982, White Christmas Tree, Winnie the Pooh Characters
The Bradford Exchange Online
Christmas Trees
"Mistletoad and Holly, or Holly Day and The Marvelous Mistletoad"
Holly dreams of being a ballerina. But rare is the ballet company that will cast a girl who uses a wheelchair in The Nutcracker.
Frank dreams of starring in a Christmas show. But no one will hire a singing toad, even if he does have a voice like Sinatra.
Cheer "The Marvelous Mistletoad" as pint-sized superhero Frank Ribbit performs million dollar tricks in New York City at Christmastime. With an unselfish heart bigger than his challenging height, Frank's risky stunts, like diving from the Flatiron Building into a glass of water, zip-lining across Manhattan's East River in sub-zero weather, even parachuting off a skyscraper at Rockefeller Plaza, seem well worth sacrificing his singing career with The Starlight Seven if it means making Holly's dream come true.
Contemporary pop culture references mingled with nostalgia that pays homage to the inimitable Frank Sinatra and swing band era make "Mistletoad and Holly, or Holly Day and The Marvelous Mistletoad" a family-friendly fantasy for dreamers of all ages.