Grandmother Tote Bag: Grandkids Rule!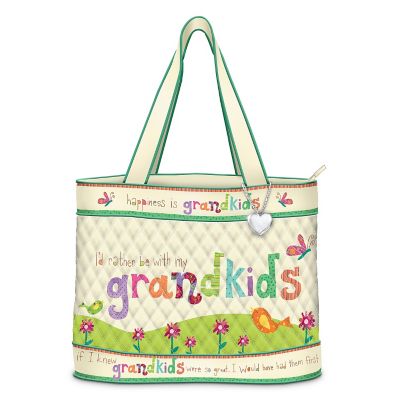 http://s7d5.scene7.com/is/image/TheBradfordExchangeOnline/01_15123_001_nca?$450$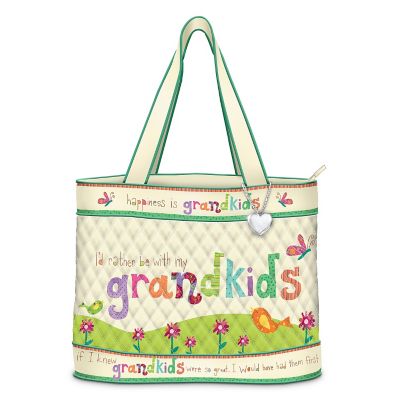 $69.95
There's nothing more special than being an out-and-about grandmother, tote bag on one arm, a grandchild's hand in yours, and a world of possibilities ahead of you both. Now, carry this fashionable, take-anywhere tote bag and, even if the grandkids aren't by your side, the whole world will know just how much you love being a grandma.A custom-designed exclusive from The Bradford Exchange, this grandmother tote bag is expertly crafted of luxurious quilted fabric in a soft butter cream hue with decorative fabric trim. Colorful flowers, birds, and butterflies by acclaimed artist Lori Siebert dance over its exterior, along with witty sentiments. Comfortable double handles make it easy to carry, while the zippered closure on the top and fabric-lined interior with two slip pockets and one zippered pocket keep your belongings safe and organized. There's a pretty silvery metallic heart charm dangling from the handles, and it even comes with a matching cosmetic bag, yours FREE! It's the perfect addition to your wardrobe, or makes a wonderful gift for Grandma. Strong demand is expected, so hurry. Order now!
The Bradford Exchange Online
/grandmatote, Cosmetic Case, Grandchildren, Grandkids, Grandmas, Grandmother, Lori Siebert, Promotion 10070, Promotion 10102, Promotion 10111, Promotion 10160, Promotion 8244, Promotion 8245, Promotion 8270, Promotion 9942, Promotion 9951, Promotion 9957, Promotion 9962, Purses, Quilted, Quilted Tote, Quilted tote bag, Tote Bag
The Bradford Exchange
The Bradford Exchange, Handbags & Accessories