Eagle Truck Sculptures Display American Pride in 1:36-Scale Ford F1 Truck Sculptures. Trucks Feature Ted Blaylock Eagle Art.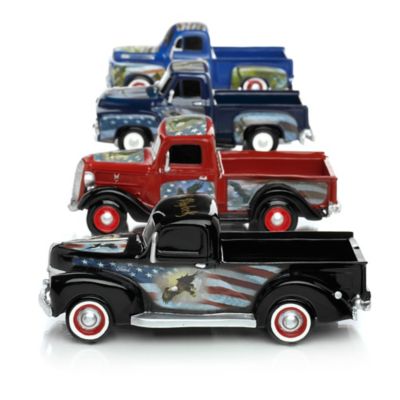 http://s7d5.scene7.com/is/image/TheBradfordExchangeOnline/908393_nca?$450$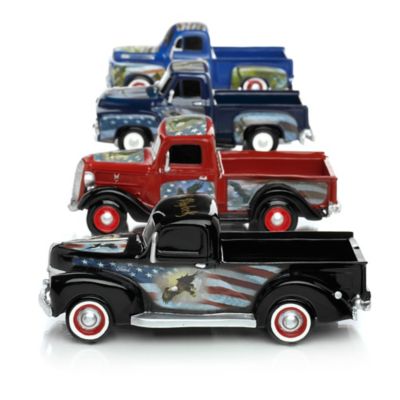 $39.99
Fuel your passion for our nation's soaring spirit by celebrating classic Ford F Series trucks – enduring symbols of American pride – with the Soaring Spirit of America Sculpture Collection, featuring 1:36-scale Ford truck sculptures emblazoned with acclaimed artist Ted Blaylock's patriotic eagle art. Available exclusively from The Hamilton Collection and officially licensed by the Ford Motor Company, this remarkable collection of sculptural trucks boldly captures the driving spirit of America. Your collection of truck sculptures begins with Issue One, American Spirit. Soon your collection will continue with Issue Two, Freedom's Calling, Issue Three, Majestic Vision and additional 1:36-scale Ford truck sculptures, each a separate issue to follow.‡Each truck in the collection is handcrafted in collector-quality artist's resin to capture every authentic detail, from the trucks' distinctive chassis, flared fenders and sculpted undercarriages to the official Ford emblems and chrome-colored trim. Plus, Ted Blaylock's dramatic eagle art of these majestic symbols of freedom shines bright under a high-gloss, showroom finish, providing the perfect "canvas" for his stunning eagle art. Strong demand is expected for this limited-edition collection of Ford F Series truck sculptures. So, don't delay. Order now!
The Bradford Exchange Online
American Bald Eagle Art, American Cars, Animals, Art, Artist Rendering, Artist Resin, Bald Eagles, Birds, Built Ford Tough, Cars, Classic Cars, Eagles, F-150, Figurines, Forces of nature, Ford, Ford F-Series, Nature, Nature's Majesty, Patriotic, Promotion 10098, Promotion 10301, Promotion 9982, Sculptures, Soaring Spirits, Spirit Of The Wilderness, Ted Blaylock, Trucks, Vintage, Vintage Style, Vintage Trucks, Wilderness, Wildlife, figurines
The Hamilton Collection
The Hamilton Collection, Figurines